The works shown are a retrospective of the artist's various creative periods. Most of the pictures are no longer available.
Availability and prices can be requested  without obligation.
Guido. Sieber is represented by the Galerie Friedmann-Hahn in Berlin.
A selection of his works are present in the gallery and can be seen there.
Galerie Friedmann-Hahn
Wielandstr.14
10629 Berlin
opening hours
tuesday to friday 12 .00 - 19.00
saturday 11.00 -  16.00
and by phone agreement
01792910817
 https://www.galeriefriedmann-hahn.com/de/artists/guido_sieber/works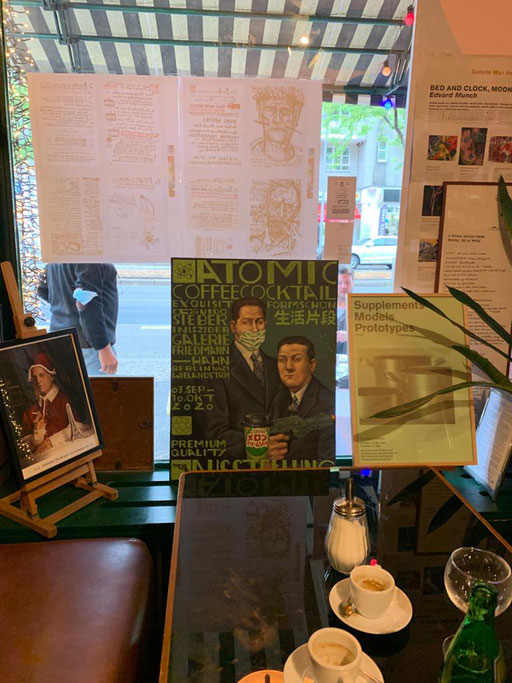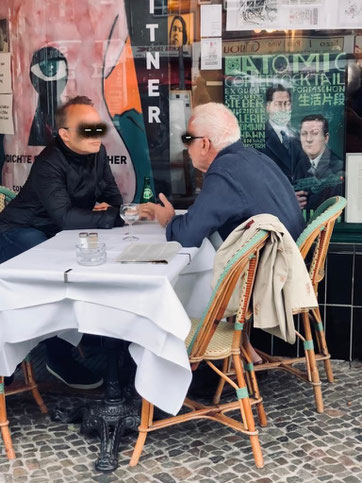 Strange Adventures original Painting
Paris Bar Berlin  2016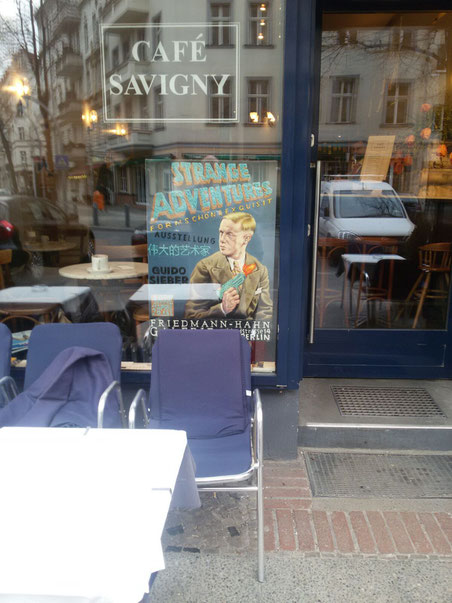 Mr. Sieber in his studio.
1963  Born in Karlsruhe.
1973  Move to Berlin.
1978  At the age of fifteen, the first comic strip published by a small publishing house.
1979  Interior decorator and part of the West Berlin subculture u.a. In the circle of
           Ben Becker, Marc Brandenburg, DJ Fetisch, Gerd Plez (Hongkong Syndikat).
          (Dschungel, So 36, Music-Hall, Schitzo, Cafe M., Metropol, Time Cafe, DNC, Exsess,
           Zest, Odeon).
1983 Rockabilly Band- ONE DROP ONLY- Sieber play double bass, various performances.
           on the street and in the Music-hall and Odeon.
1984 The band dissolves.
           Works in scene stores in Berlin (including Blue Moon, Kaufhaus Schrill),
1985, Sieber traveled to America and lived some time in Phoenix, Arizona.
           Real life in the US was characterized by drugs, street gangs, social misery, fastfood,  
           fatigue, weapons, car and consumerism, and far (comics, music, film) had influenced
          Sieber `s youth.In Arizona the perception of the artist began to change.
          He dealt with the distorted realism in the subculture of the American past.
         The transfiguration by time and nebulized idealization into stereotypical characters.
        (Just as shown in the theme groups "FEVER - The distorted picture of music history" and
         "GANGSTERBALLADEN - Violence in the merge of fiction and reality").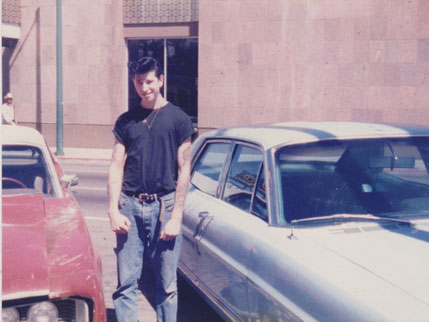 1985             The Artist in Arizona on the Road
1986  Get to know his wife and muse, Angelika Kasprzyk.   
1987  Open a Record store (Rock-In). Specialized for Soul, Mod, Surf,
           Rock a Billy, R& B , Jazz, Beat & Garage Records.
1988 Close the Record Store.
           In the sceneshops first  sales of original art. ( Blue Moon, Kaufhaus Schrill ,
           Recordstores Rock-In, Vinyl Boogie, Canzone )
           Comic worksare published in Berlin citymagazines  Tip and  Zitty , Ticket and also
           in the comicmagazines  U-Comic and Schwermetall.
1988  Works only artistically. Mainly in comicbooks.
1990    First publications and subsequent exhibitions.
 - 1995    7 publications e.g. Carlsen Verlag and  Edition Kunst der Comics.
                As well as publications in comic magazines (Strapazin, U-Comix, 
                Schwermetall, Kowalski, Krass and in the US-issues of Bradleys from Peter Bagge).
                Participation in book projects (Caricatura, Cartoonfabrick Köpenick, Lappan,
                Semmel Verlag).
                Two nominations to the best German comic artist (1992 and 1993).
               Sieber breaks with classic comic traditions and provokes.
Press releases:
…sein aggressiver Zeichenstil begeistert die Fans in ganz Europa. Auf dem weltgrößten Comic Festival im französischen Angoulem  werden  jetzt Siebers  Werke ausgestellt.     
 (Stern Nr. 2 / 1993)
…Die phantastisch ekligen Comic Bücher.  (Männer Vouge Nr. 10 / 1992)
…Einer Eruption gleich erschütterte Sieber …die deutsche Comiclandschaft. Da war er endlich, der erste deutsche Comic-Zeichner, der ebenso konsequent und provokativ wie seine französischen Kollegen Reiser und Vuillemin seinen Mitbürgern und Mitbürgerinnen  auf den Leib rückte und ihre selbstzufriedene Dumpfheit angriff.                                                    
 (Der  Bund Nr. Mai 1995 –Schweizer Tageszeitung)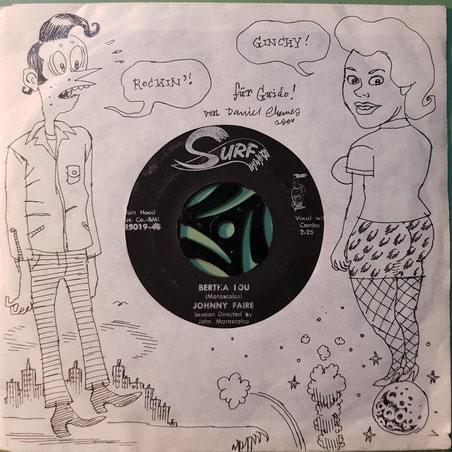 In 1990 Sieber met the American comic artist Daniel Clowes.
Clowes draws this record sleeve for Sieber!
1996 Thematically reread, Sieber looks the risk of repetition and finished the works in comics.
From 1995 Free collaboration for the satirical magazine Eulenspiegel.
As in his comic works, Sieber breaks with the classic cartoon tradition.
 The main focus of his satirical work is not the point and the form of a classical caricature but the impulses of time and the development of the characters.
Abstraction and distortion are closely linked to real references.
1990 – 2002 Sieber also works in the illustration section (represented by the agencies
                     Becker-Derouet and Contours, Hamburg) for many print media
                    (u.a. Süddeutsche Zeitung, Geo, Rolling Stone, Spiegel, Stern, Tempo, Die Zeit, 
                     Tip).
1996    For the book publication "The Blaurote Luftmatratze" in collaboration with
             The Süddeutsche Zeitung and the Eichborn publishing house, illustrated Sieber
             short stories of Stanislaw Lem and Vladimir Sorokin. 
 1999   Sieber has created CD cover of the "Old World Tangos" series for the Berlin label
              Oriente Music.
 2003   Sieber sets the work in the Illustration area more or less.  
1990-1995 First exhibitions.
                  E.g.  Goethe Institute Paris, Salon international de la Bande Dessinee
                  (Angouleme Frankreich), Satiricum im Sommerpalais Greiz, Kongresszentrum
                  Erlangen, Grober Unfug Berlin, Galerie am Chamissoplatz.
1996         First fixed gallery representation through Viss Galerie, Auguststraße Berlin.
1997         Group exhibition with Jaques de Loustal and Anke Feuchtenberger.
                  Private-Art-Museum Hamburg. 
1997 Meeting with the photographers William Claxton, Herman Leonard, William P. Gottlieb.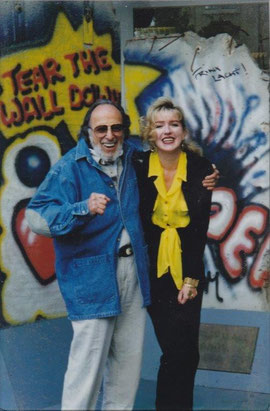 Herman Leonard and A. Kasprzyk fotographed by William P. Gottlieb
Exhibition: Die Meisterfotografen des Jazz der VIZZ Galerie im Amerika Haus Berlin 1997.
A. Kasprzyk supervised the exhibition of the artists William Claxton ,William P. Gottlieb and Herman Leonard.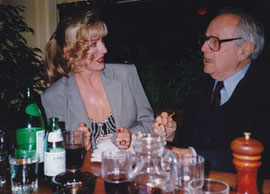 Angelika Kasprzyk and William P. Gottlieb
1997 Restaurant Toto, Berlin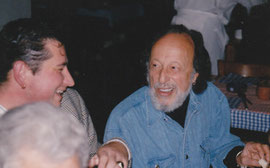 Sieber and Hermann Leonard
1997 Restaurant Toto, Berlin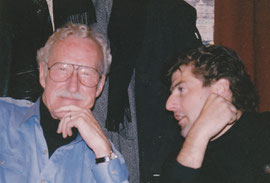 William Claxton With the gallery owner and hotelier  Christian Bree.
1997 Restaurant Toto, Berlin 
1998-2005 Further exhibitions.
E.g. Viss Galerie Berlin, Galerie Kramer Hamburg, Galerie am Chamissoplatz Berlin,
Galerie Ricarda Fox Essen, Moritzbastei Leipzig, Krüger Museum Bad Rehburg.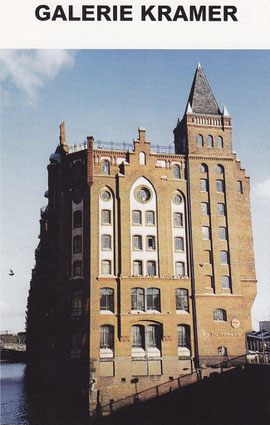 Galerie Kramerin the Speicherstadt, Hamburg.
Wxhibition Werkschau Sieber.
Mai / Juni 1999
2003 Permanent exhibition in room 211 of the artist hotel Luise in Berlin.
         Further hotel-featured artists are for example Elvira Bach, Thomas Baumgärtel,
         David Dalla, Oliver Jordan and Heiner Meyer.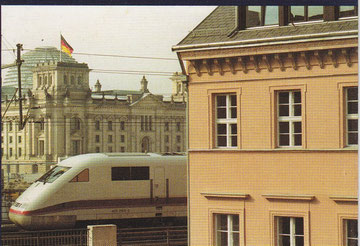 Luise
Hotel & Künstlerheim
Luisenstr.19
10117 Berlin
2006 Permanent representation by Galerie Friedmann-Hahn, Wielandstraße Berlin.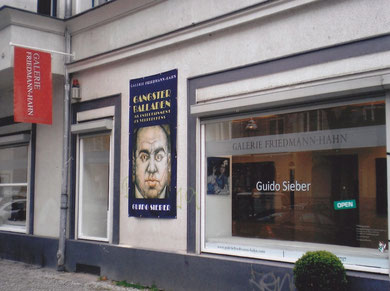 Galerie
Friedman-Hahn
Sieber exhibition "GANGSTER BALLADS"
2008
2008 Group Exhibition ( Abgründe ) at the Zitadelle Spandau Berlin together with HR Giger and works of Horst Jansen. 
Zitadelle Spandau Berlin
2008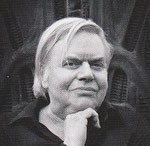 2008 Visit of the painter Gottfried Helnwein at the atelier of Guido Sieber.
Gottfried Helnwein at the atelier of Guido Sieber.
In the Background you could see a portrait of
L. Luciano from
"GANGSTER BALLADS"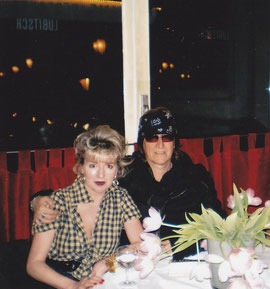 Angelika Kasprzyk and Gottfried Helnwein at the reataurant
Lubitsch Berlin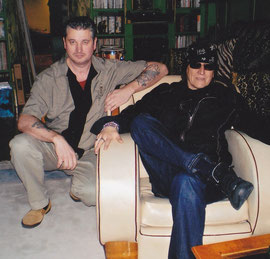 2009 Exhibition "Berliner Milljöh Damals und Heute" combined with originals of
Heinrich Zille from the collection of Axel-Springer at the Galerie Friedmann-Hahn Berlin.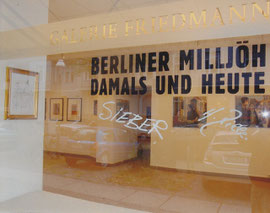 Ausstellung Berliner Milljöh
Galerie Friedman-Hahn
Berlin
September 2009
2009 cooperation with the author Franz Dobler.
(Ausstellungsprojekt Rock`n Roll Fever) 
Franz Dobler, Born in  1959, writes since 1988 tales, poems, music books and novels
 E.g. the highly respected and outstanding Johnny Cash biography
"The Beast In Me" (Heyne Verlag) As well as as editor (" Down in Louisiana")
und translator ( Ry Cooder "In den Straßen von Los Angeles").
For further information, please visit:   www.franzdobler.de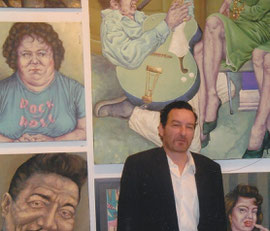 Franz Dobler at the reading to the
exhibition "Rock`n Roll Fever"
at the Galerie Friedmann-Hahn
Berlin
Juli 2011
2005-2013 further exhibitions:
E.g. Galerie Friedmann-Hahn Berlin, Zitadelle Berlin, Caricatura Frankfurt, Caricatura Kassel, Kunstkreis in Rolf Flemes Haus  Hameln, Schleswig-Holstein-Haus in Schwerin, Kultur Ambulanz, Galerie im Park  Bremen.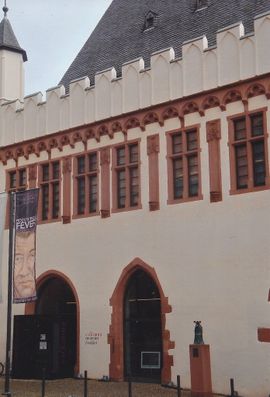 Caricatura Museum Frankfurt
Exhibition "Rock `n Roll Fever" 
September 2010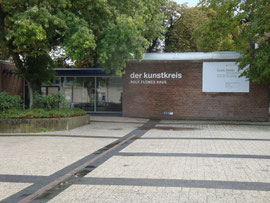 Kunstkreis Hameln, Rolf Flemes Haus,
Exhibition "Allüren und Marotten"
Oktober  2011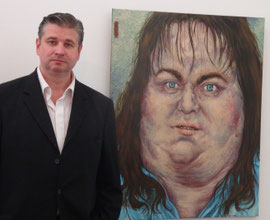 Kunstkreis Hameln, Rolf Flemes Haus,
Exhibition "Allüren und Marotten"
Sieber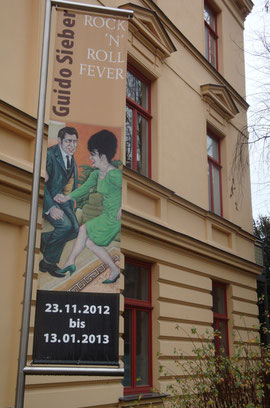 Schleswig-Holstein Haus
Exhibition "Rock`n Roll Fever"
 in Schwerin
November  2012
 Press Releases:
…seine groteske Sichtweise auf menschliche Abgründe...der Verrohung und Vergänglichkeit und ist damit vielleicht grausamer als Janssen und Giger zusammen. (Berliner Zeitung, 22.07.2008)
…in der darstellerischen Zuspitzung der seelischen Verwüstungen ist Sieber unschlagbar.
In der Tradition von Grosz, Dix und auch Schad arbeitet er mit drastischen Bildern an einem figürlichen Realismus, dessen Genauigkeit alles Fotografische hinter sich lässt.
(Berliner Zeitung, 01.04.2008)
Sieber und Dobler erzählen im Museum für komische Kunst in Frankfurt die Geschichte des Rock´n`Roll. …Fever betitelte Ausstellung zum Drastischen tendiert…die Akteure werden nicht verschont. …dem sezierenden Blick und den gern im welken Fleisch schwelgenden Pinsel nicht entgehen.
(FAZ 29.09.2010)
…drastisch, fiebrig, übergenau, das Humane hinter der Hülle herausfordernd. Starschnitte der anderen Art.
(Die Tageszeitung 04.10.2010)
…Sieber ist in seiner realistischen Malweise schonungslos.
(Tip Berlin, Nr.13 2011)
...gnadenlos ehrlichen Gesellschafts-Porträts. (BZ Nr.79, 2016)
2013- 2020  further exhibitions and Art Fairs:
Galerie Friedmann-Hahn, Galerie Richter,  Preview Berlin Art Fair,  Position Berlin,
Art Karlsruhe .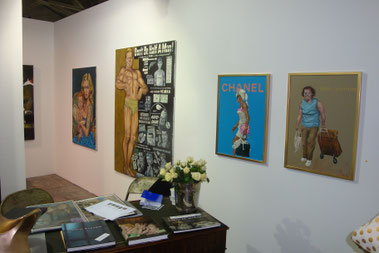 2013
Preview Berlin
Art Fair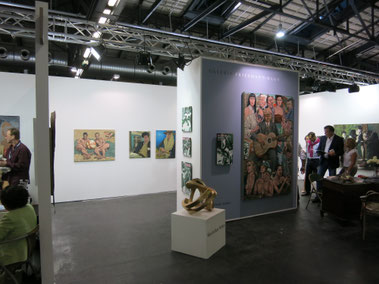 2016
Positions Berlin
Art Fair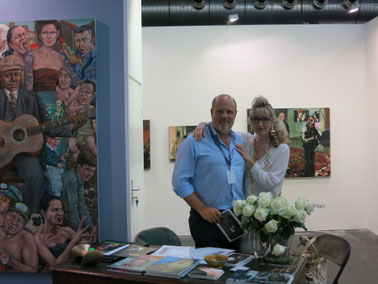 2016
Positions Berlin
Art Fair
A. Friedmann-Hahn
A. Kasprzyk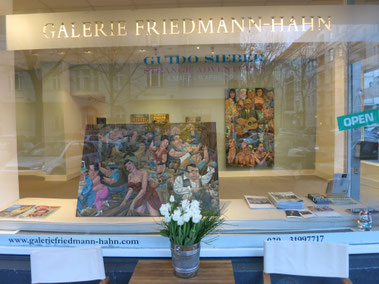 2016
Solo Exhibition
Galerie
Friedmann-Hahn Berlin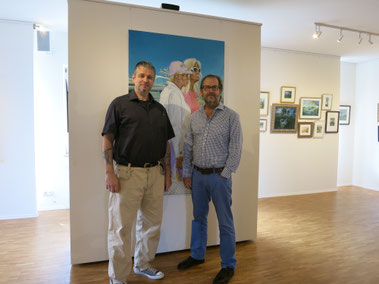 2016
Exhibition
Galerie Richter
Lütjenburg
Sieber &
M. Richter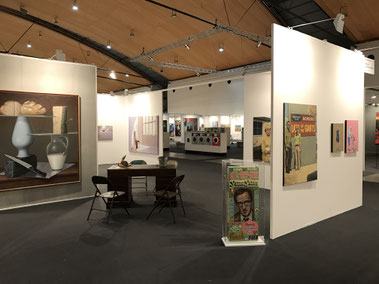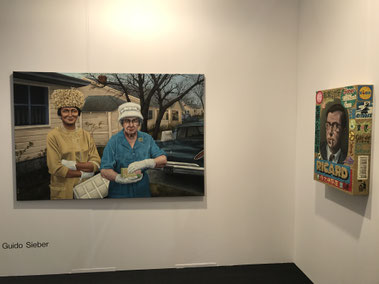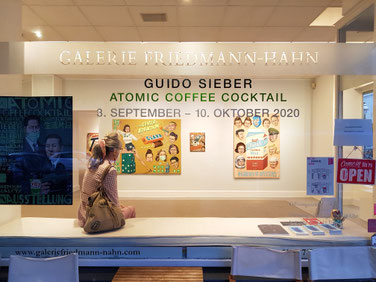 2020
Solo Exhibition
Galerie Friedmann-Hahn Berlin